#HolisticLima
Main Goals:
Form a Healthy, Holistic Minded Community
Connect Local, Holistic Based Businesses & Practitioners to Local, Holistic Minded Consumers & Clients
Source for Information and Education that is Unbiased & Non-Brand Specific
Support through Positivity, Creativity, Mindfulness & Balance
Promote Health & Well-Being for Mind, Body & Spirit
Provide Positive Messages for Self-Empowerment & Personal Strength
When: September 27, 2015
Registration & Vending Begins at 8am
Speakers Begin at 9am
Where: Howard Johnson Hotel, 1920 Roschman Ave, Lima Ohio 45804
Cost: Student Pass $59 (Must bring school ID)
Early Bird Discount $99 (Ends August 31, 2015)
Regular Full Price $120 (Begins September 1, 2015)
***All Day pass includes morning tea or coffee, lunch and afternoon snack***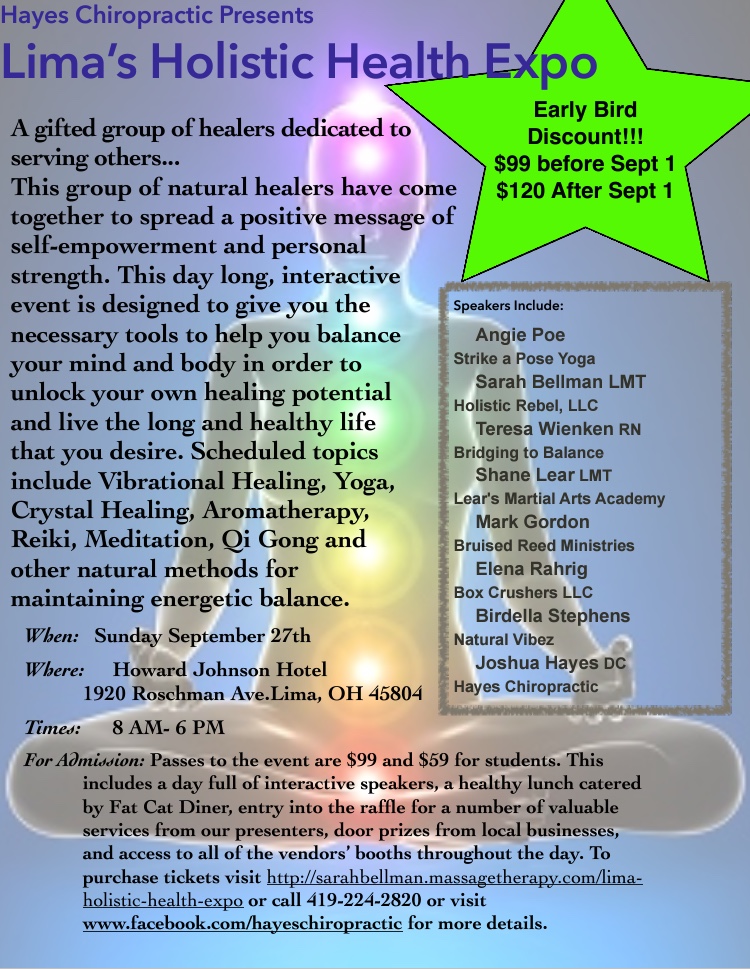 Payment Details: Purchase tickets online here:
All Day Pass $120
Purchase in person at Natural Vibez at 1206 W Robb Ave, Lima Ohio 45801
or Hayes Chiropractic 4040 W Breese Rd, Lima Ohio 45806.
Speakers: This group of natural healers have come together to spread a positive message of self-empowerment and personal strength. This day long, interactive event is designed to give you the necessary tools to help you balance your mind and body in order to unlock your own healing potential and live the long and healthy life that you desire. Find the healer in you!!! Scheduled topics include Vibrational Healing, Yoga, Crystal Healing, Aromatherapy, Reiki, Meditation, Qi Gong and other natural methods for maintaining energetic balance.
Joshua Hayes with Hayes Chiropractic
Angie Poe with Strike a Pose Yoga
Sarah Bellman with Holistic Rebel, LLC
Teresa Wienken with Bridging to Balance
Shane Lear with Dayan Arts and Lear's Martial Arts
Mark Gordan with Bruised Reed Ministries
Elena Rahrig with Box Crushers
Birdella Stephens with Natural Vibez
For questions or more details call Josh at 419-224-2820