Sarah C. Bellman
LMT, BS, NCBTMB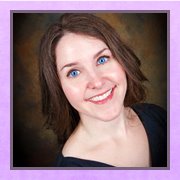 My passion and purpose is to improve the quality of lives with massage therapy, aromatherapy, skin therapy and education. I specialize in therapeutic massage, aromatherapy, LaStone® therapy, acupressure, skin therapy and continuing education.
Back in 2002, I earned my massage therapy license through the Ohio State Medical Board. Ten years later, I graduated from Wright State University with a B.S. in Biological Sciences and business minor giving me the opportunity to teach Anatomy and Physiology at Healing Arts Institute, the same massage therapy school I attended, in Perrysburg, Ohio and later at Institute of Therapeutic Massage in Lima, Ohio.
During my college years, I studied human biology, plant biology, ecology, environmental physiology, genetics, bioethics, conversation biology, ornithology, biogeography and lots of chemistry and business. I remember graduating in 2010 and thinking "What on earth will I do with such a diversified background?" Six months after this question, I fell in love with essential oils because I realized that these amazing aromatic plant molecules are the answer to so many questions to increase the quality of my life along with my family and clients.
Education is very important to me, so I am constantly learning something new. Then I want to share it with others around me, sparking discussions and ideas. This has led me to host a monthly aromatherapy meeting starting in 2011. I offer Right-Brain Business Plan courses for entry level business planning for creative entrepreneurs wanting to get organized and in alignment with their vision and values. I have become an Approved Provider through the National Certification Board for Therapeutic Massage & Bodywork (NCBTMB) to offer CE hours to massage and bodywork professionals. Spring 2014, HAI and I have launched a Spa Development Online program that is a year-long course to provide professionals the proper tools to build a sustainable, profitable spa business.
For 2015 I plan on completing my second level of aromatherapy certification with Floracopeia's Advanced Aromatherapy Course with David Crow and Jade Shutes. This course looks at essential oils through the perspective of Traditional Chinese Medicine, whereas the first course used Ayurveda to explain essential oils and the distillation process. I also am working on 12 case studies for this course. And hope to become a member of National Association of Holistic Aromatherapy.
My purpose and passions are to:
Constantly learn and grow so that my business can be more efficient and customer friendly, allowing me to give each client their most therapeutic massage ever

Create a healthy, safe and healing space to nurture the spirit, sooth the mind, relax the body

Provide the highest quality of products to protect a person's greatest asset, the skin, our first line of defense for the immune system

Increase the quality of life for myself, my family and clients through bodywork and amazing plant based products

Offer continuing education to other massage therapist and creative entrepreneurs so that we can all have tools to share our talents and gifts to benefit humanity

Support Mother Earth
Professional Time Line
2015: European Spa Trip - Body Wraps, Indian Head Massage, Stone Massage
12 Aromatherapy Case Studies
Lima Holistic Health Expo
President of Moon City BNI (Business Network International)
2014: Spa Development - Retail Management
Spa Development - Spa: A Comprehensive Introduction
Renegade Beauty with Nadine Artemis and Floracopeia
Monthly Evening Aromatherapy Meet Ups at Riverside Art Center
Founded Holistic Rebel, LLC
2013: Certified Aromatherapist (Level 1 - National Association of Holistic Aromatherapy)
Floracopeia's Aromatherapy Foundations course with David Crow and Jade Shutes
5 Aromatherapy Case Studies
LaStone Therapy (Simply Stones Extended)
Anatomy and Physiology Instructor at Institute of Therapeutic Massage
2012: NCBTMB Approved Provider
Right-Brain Business Plan® Licensed Facilitator
Vice President of Moon City BNI (Business Network International)
Reiki (Level One, Two and Three) at Holistic Spiritual Center with Teresa Wieken
2011: LaStone Therapy (Simply Stone)
Aromatherapy (Level One and Two) with George Cox at Natural Options Aromatherapy
Aromatherapy Meetings at Healing Arts of Ohio (to present)
Right-Brain Business Plan Home Study
Right-Brain Business Plan Workshop with Megan Peters
Anatomy and Physiology Instructor at Healing Arts Institute
Founding Member of Moon City BNI (Business Network International)
Monthly Afternoon Aromatherapy Meet Ups
2010: LMT at Shawnee Country Club (to present)
Acupressure (Level One) at Healing Arts of Ohio with Shane Lear
Wright State University B.S. in Biological Sciences with a minor in business
2008: Hospice Massage with Community Health Professionals (to 2012)
2007: Home Health Aid with Community Health Professionals of Tri-County (to 2012)
2006: LMT at Healing Arts of Ohio (to present)
2005: LMT at Charme Hair Salon (to 2006)
2004: Revival Spa at BreakAway RecPlex, Celina Ohio (to 2006)
2003: LMT at Reve Salon and Day Spa, Sylvania Ohio (to 2005)
2002: State of Ohio Medical Board License
Massage Therapy Certificate from Healing Arts Institute
Intro to Traditional Chinese Medicine at American Institute of Alternative Medicine