The Right-Brain Business Plan®:
Turn Your Passion into Profit
Do you know where your business is heading in 2014 and beyond? Want a fun and creative way to plan for your amazing entrepreneurial success? Then come join the party at the Right-Brain Business Plan® workshop! You'll roll-up your sleeves and craft a visual plan that lets your head know where your business is going AND inspires your heart to sing with joy.
This fun and interactive workshop is perfect for you if…

You don't have a business plan and know you need one, but doing dirty dishes, dealing with loads of laundry, or even getting a head start on next year's taxes all sound way more appealing (ugh!)
You've tried to do a business plan the "traditional way" and you got stuck, overwhelmed, and demotivated
You already have a business plan, but you need to breathe new life into it
You can't stand spreadsheets
Numbers numb you out
AND you'd be a heck of a lot happier planning your business in the same intuitive, authentic, and expressive way that you live your creative life (yes, indeed, it can be that fun and fulfilling!)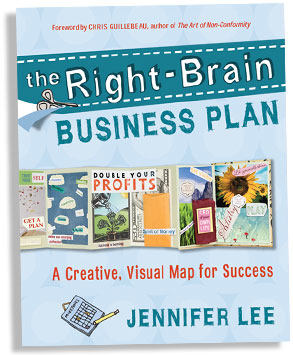 Click on book to Order your Right-Brain Business Plan Book signed by author Jennifer Lee.
$19.95 + shipping and handling.
You get the following (and much, much more!) from this workshop:
Detailed, do-able assignments… that deal with all the parts of a business plan, from start to finish
Intuitive exercises and inspiring materials… that tap into your natural creative genius, transforming drudgery into joy
Hands-on support, guidance, and accountability… from a licensed facilitator plus the wisdom and perspectives of your fellow creative cohorts in the circle

A copy of the best-selling book,

The Right-Brain Business Plan®: A Creative, Visual Map for Success by Jennifer Lee

your own Right-Brain Business Plan® kit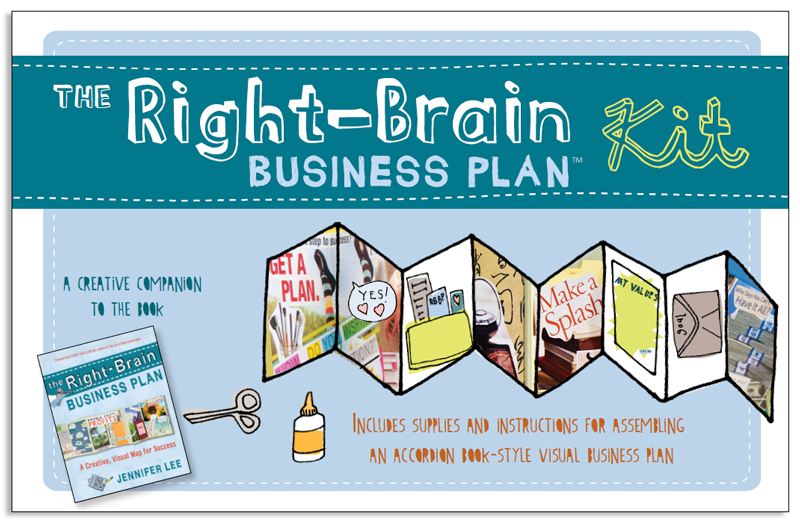 Want to create your own creative business plan?
Purchase your Right-Brain Business Plan Kit by clicking on the image above.
$39.95 + shipping and handling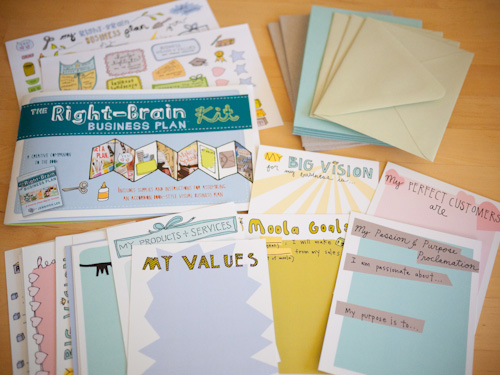 1 set of

blank accordion

panels and 2 bookboard covers
2 half-sheets of ready-to-cut

colorful stickers

and labels

to embellish your plan

20 inspiring, two-sided illustrated cards that correspond to exercises in the book will help you capture your brilliant ideas, goals, actions, affirmations, and more
3 blank envelopes to store your cards and notes
An 18-page full-color, beautifully designed booklet with step-by-step instructions on how to put together your plan
Link to an online video on how to assemble your accordion book-style plan
By the end of this six week workshop, you will have learned how to:
Clarify your business values and vision
Paint a picture of your business landscape
Determine what products and services you'll offer
Understand your competition, and what makes you stand out from the crowd
Identify who your perfect cust

omers are and how you'll reach them

Set and manage money goals that honor your values and align with your life
Select your circle of support to help you get the work done
Map out concrete action steps to bring your Right-Brain Business Plan® to life
Workshops are now forming at Healing Arts of Ohio in Wapakoneta & Healing Arts Institute in Perrysburg.
It may be possible to hold workshops at your on-site location.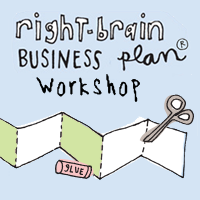 Register Today!!
Call Sarah at (419) 230 -4266
One Hour Workshops Available
One Day Workshops (5-8 hours)
Six 3-hour Workshops within 6-weeks (18 hours)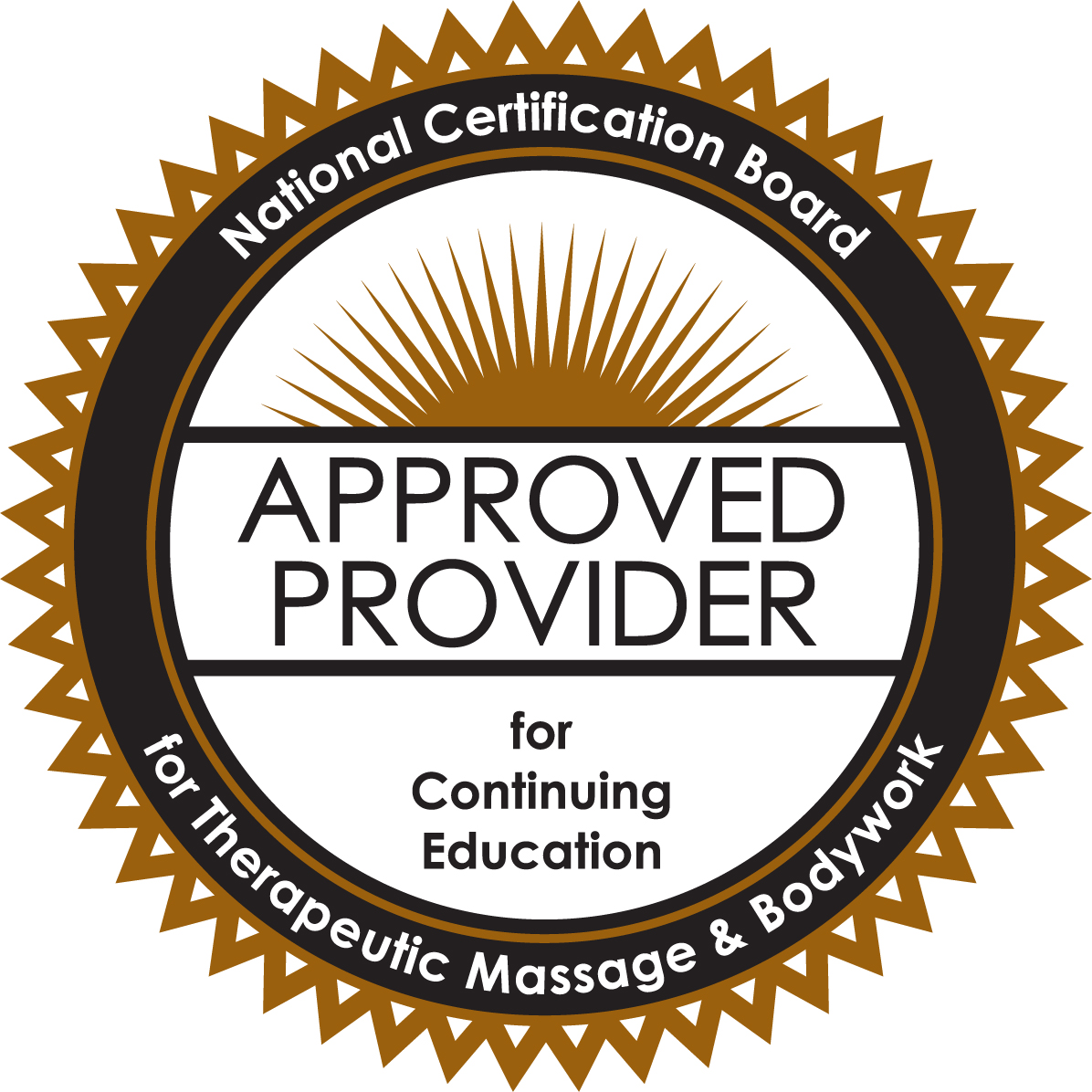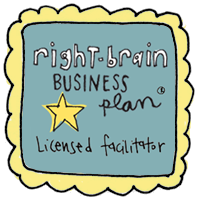 What people have said about the Right-Brain Business Plan®:
"This course helped me re-energize and align my vision, purpose and actions. In fact, engaging in this class got me so inspired again about my business that I found myself in action implementing my plan while simultaneously creating it! Results are already materializing."
— Amy Egenberger, Spirit Out!, Inc, www.spiritout.com
"Approaching the writing of a business plan with a right-brain creative aspect makes it less intimidating and more inspiring. It certainly isn't boring! I think the creative approach makes it more personal.
The best aspect for me in this class is feeling that Ihave a better direction for my business. It pushed me to move in a direction that I've been contemplating for almost a year."
—Amy Crawley, Amy A. Crawley Fine Art, www.amyacrawley.com
"I've written business plans before, but this helped me do it in a way that let me stay in the right mindset for the project. The old ways felt like trapping the creative flow in false structure that misled me. But my Right-Brain Business Plan® not only provides structure, it provides inspiration and puts me in the right (ha!) mindset."
—Tori Deaux, The Circus Serene, www.circusserene.com
"I definitely appreciate the fact that this course emphasizes and acknowledges how important visuals are to the right brain person. This concept really helps me stay focused and interested in the planning process of my business. Phew! This is the furthest I have ever gone in the planning process. I typically don't make it past reading the two words, 'executive summary'."
— Lisa Hause, Lisa Hause Photography, www.lisahause.com
"If you don't have a plan for your business, you need one. If you want to have fun learning how to develop a plan, take this course. This course takes the 'scare factor' out of creating a business plan."
—Tracey Asai, Tracey Asai Designs, www.traceyasaidesigns.com
Frequently Asked Questions
What if I don't have any idea about what business I want to start?
The workshop is most effective when you have some sense of what type of business you want to start. If you know you want to be starting a business, but are not quite sure what to pursue and are still in the very early exploration stages, you might want to consider working with a life coach first to get clearer on what's next for you.
You can also download the free guided visualization at http://www.rightbrainbusinessplan.com/download-signupsand listen to it to see if that helps you start to get clear about the business you're wanting to create.
What if I have more than one business?
I know many creative entrepreneurs have a plethora of passions. If you have multiple businesses or business ideas, I suggest focusing on one business as you go through the exercises. It will keep things more simple and manageable for you. Once you go through the process for one business, it'll be easier to repeat it again for the next. When you're done you can look at both plans to see the big picture of your creative enterprise.
What can I expect from the course leader?
Think of me as your friendly companion and ally who will guide you through the creative business planning process. I'll offer lots of passionate inspiration along with practical information. I'm there to answer your questions as best I can, point you to additional resources, challenge you to stretch yourself, and facilitate group sharing and learning.
How can I get the most out of this experience?
Show up: Engage yourself fully in the process. Participate in the exercises and discussions. The more you put in to this experience, the more you'll get out of it.
Be curious: Ask questions and be willing to try new things, learn, and venture outside your comfort zone.
Offer feedback: If something isn't quite working for you in the workshop, please let me know, offer a suggestion, and/or make a specific request and I will do my best to address your concern. This is a two-way street and we're co-creating our experience together, so I invite your insights.
What supplies and material am I responsible for bringing to workshop?
Many supplies will be provided for you. Such as scissors, glue, sticky notes, colored paper, playsheets, markers, crayons, colored pencils, cards with envelopes, and magazines. As well as a binder complete with playsheets, notes and mindmaps, slide show notes, and many additional resources. Please feel free to look through magazines and other publications prior to workshop for images and phrases that resonate with your big vision. You may bring any additional supplies, magazines, and materials.
What if I can no longer participate in the workshop and need to cancel?
The workshop registration fee is non refundable. But, if for some reason you cannot attend, you can transfer your spot to another person before the workshop begins or you can use your registration fee as credit toward a future offering of this workshop.
Who can I contact if I have more questions?
Please e-mail your questions about the workshop to scblmt@massagetherapy.com and I will get back to you soon!
Right-Brain Business Plan® is a registered trademark of Jenn & Brian Creative, Inc.
(DBA: Artizen Coaching).
Learn more at www.rightbrainbusinessplan.com.